Commerical & Industrial
Solutions to speed construction & lower costs
The rising costs of construction materials and labour shortages in the commercial and industrial sectors currently make economic solutions tough to achieve. Delays caused by weak or variable site conditions increase project costs, slow down construction schedules and lead to future maintenance issues. However, many projects need to be built on sites with these less-than-desirable soil condition.
Tensar provides technology-driven solutions with advanced soil stabilisation techniques, incorporating high-performance, patented products. Our team brings proven engineered solutions to standard design practices. With over 10,000 successful projects worldwide, we can address a wide range of site development challenges.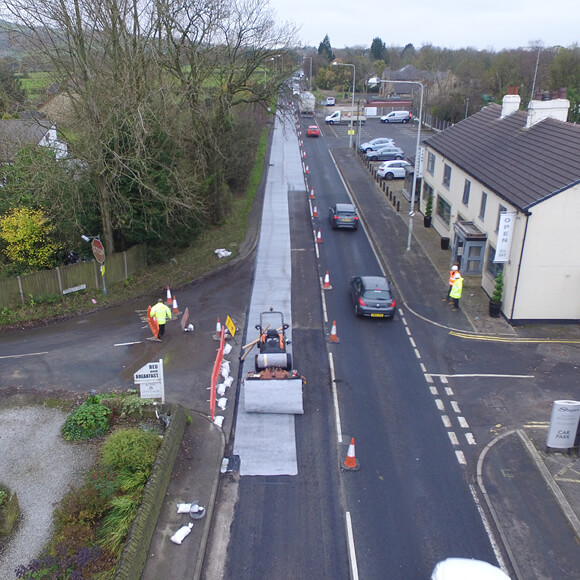 Pavement Maintenance
When pavements crack, an asphalt overlay is usually placed over the existing pavement, sometimes after milling off the upper surface, although for each 25mm of applied overlay, existing cracks are generally deterred from reflecting to the surface by just one year.

By installing an asphalt interlayer - such as Tensar AX5-GN - prior to overlaying with asphalt, reflective cracking can be delayed, greatly increasing the life of the overlay.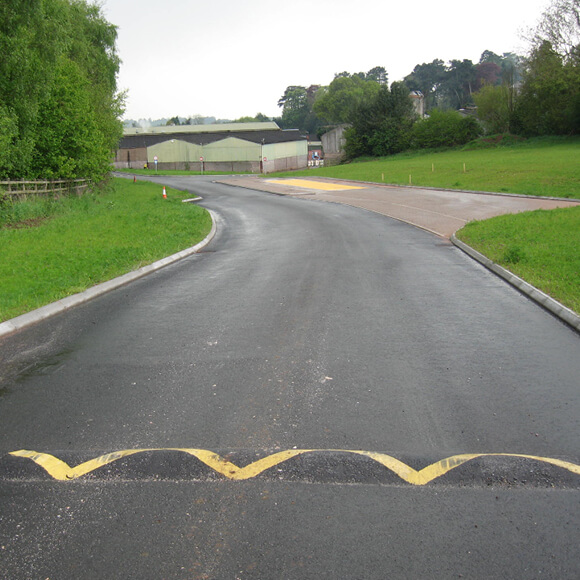 Roads and Paved Areas 
Frequent, heavy traffic loading accelerates pavement deterioration. As a result, roads and paved areas in commercial and industrial developments are often very thick and expensive. Tensar geogrids improve the long-term performance of paved surfaces by minimising aggregate movement, controlling surface rutting and maintaining bearing capacity. This enables a reduction in pavement thickness, with no reduction in performance. The consequent savings can be substantial, both in cost and construction time.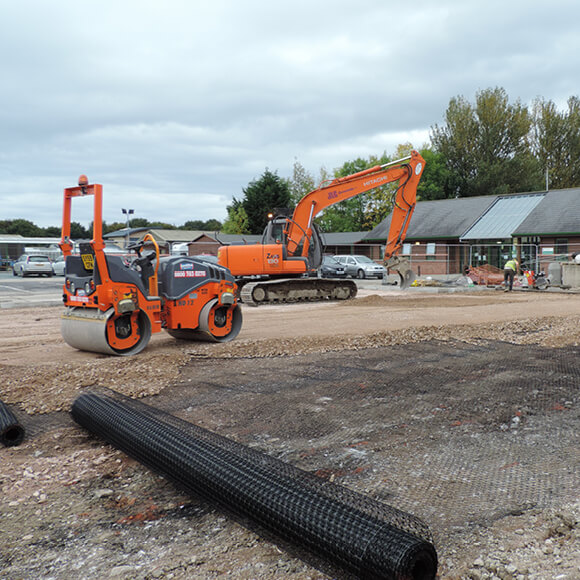 Variable & Weak Ground
Before building work can start, reliable clean access and storage areas are needed. Weak or variable ground presents a considerable challenge to developers. Tensar geogrids can provide strong, stable road foundations even over the weakest soils. By stabilising the capping or subbase layers, the overall thickness requirement can be reduced, saving on excavation and materials.
Additionally, when wet weather sets in, Tensar geogrids can be used to stabilise working platforms for access and storage so that construction can continue no matter what the weather.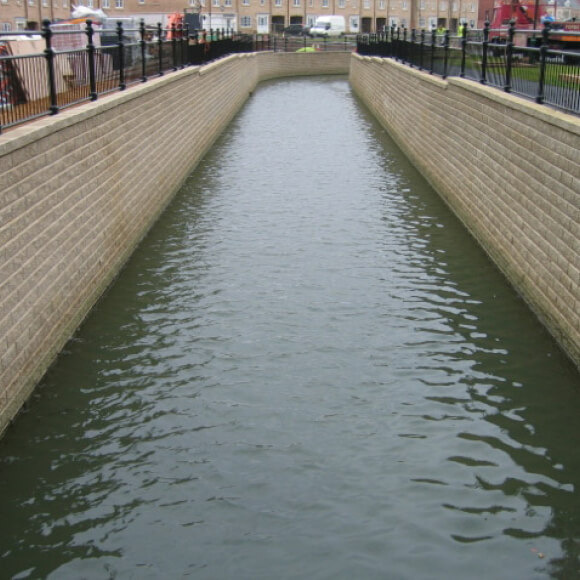 Retaining walls and Steep Slopes
Since not all commercial properties or industrial facilities are built on level flat land, a retaining wall or steep slope may be necessary, especially in mountainous terrains or marine areas. Conventional solutions, including cast-in-place concrete walls or sheet piles, can be costly, time-consuming, and labour-intensive. Tensar offers a variety of earth retaining systems to address the complexity of every project. Used in conjunction with Tensar's uniaxial geogrids and Tensar's design support, our retaining systems provide both economy and durability.