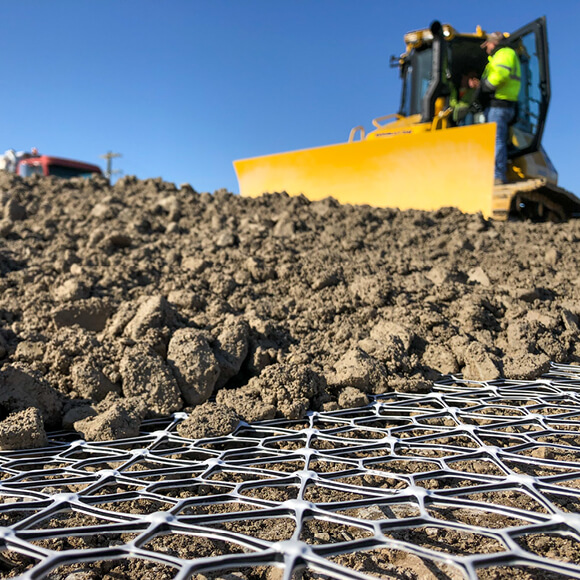 Tensar® InterAx® (NX) Geogrids
10,000+ Hours of R&D
12 Product Teams
Tensar® InterAx® geogrids are the best performing stabilisation geogrids Tensar have developed
The market leading solution to enhance the performance of roads, railways and other trafficked areas
Tensar® InterAx® has optimised geogrid geometry to enhance the stabilising effect on the aggregate to provide the best Tensar mechanically stabilised layer
Tensar® InterAx® adopts advanced material science to improve interaction between the geogrid and aggregate improving performance and available Tensar Value
Need a Tensar InterAx design for your project?
Tensar's design team can produce a free of charge "Application Suggestion" to illustrate what Tensar can achieve and how much value can be added to your project.
Overview
Tensar® InterAx® geogrid is the latest and most advanced form of geosynthetic stabilisation on the market. Providing better value and cost savings than all previous Tensar geogrids, its optimised geometry results in improved confinement of granular fill and creates a more efficient stabilised layer. It can be used with a wider range and quality of aggregate types and gradations to facilitate increased flexibility.
Our sophisticated Tensar® InterAx® geogrids are the output of 12 global teams and over 10,000 of R&D, resulting our most advanced product to date that offers improved compaction and movement restriction to deliver long-lasting performance. This is achieved by a complex structure that incorporates hexagonal, trapezoidal and triangular geometries across continuous and non-continuous ribs.
SKUs
Tensar® InterAx® geogrid is currently available in two SKUs: NX750 and NX850.