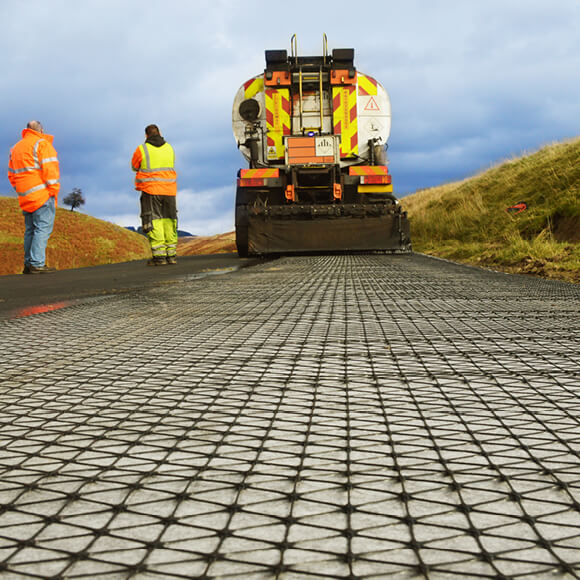 Tensar® AX5-GN
360°
Uniform in-plane Reinforcement for Optimum Crack Control
3
Factor of Three Times Improvement in Fatigue Life
3
Triple Functions; Reinforcement, Stress-relief and Waterproofing
Tensar has over 30 years of experience with asphalt interlayers
Tensar AX5-GN high-profile 3D interlayer delivers three functions of reinforcement (load transfer), stress relief and interlayerbarrier (waterproofing)
Controls fatigue cracking in asphalt to extend pavement life
Optimum control of reflective cracking in asphalt overlays
Overview
Tensar AX5-GN is Tensar's most advanced high performing asphalt interlayer product. The product is a composite, comprising a stiff high-profile 3D triaxial grid thermally-bonded to a non-woven paving fabric. This provides the triple interlayer functions of reinforcement, stress absorption (SAMI) and interlayer barrier (waterproofing), once saturated with bitumen during installation. Tensar AX5-GN is a proven solution for reinforcing asphalt overlays to enhance fatigue performance, e.g. increasing the life of reconstructed pavements or reducing asphalt layer thickness in new pavements.
It has also been designed to provide optimal performance for control of reflective cracking in asphalt overlays, and longitudinal cracking in road widening.
SKUs
Typically installed under the asphalt binder course or the asphalt base course layers, the Tensar AX5-GN interlayer's high-profile triaxial grid mechanically interlocks with the bound particles of asphalt mix to provide reinforcement-restricting lateral movement of the asphalt matrix. The multi-axial grid structure provides crack control in all directions.
The reinforced layer created prolongs service life, by offering incredible resistance to reflective cracking and mitigating longitudinal cracking caused by differential settlement between new and existing lanes on widened roads. It can also reduce surface rutting, particularly in low stiffness asphalt mixes subjected to slow and heavy wheel loading at high temperatures.