Retaining Walls
& Bridge Abutments
The cost-effective alternative to conventional retaining walls
Geogrid earth retaining walls are vital for sites featuring sloping terrain - where maximum developable area must be maintained - or requiring abrupt surface level change. These retaining wall structures also provide thrust relief against earth pressure acting on buried structures. Retaining walls for bridge abutments and wing walls provide lateral support to the embankment fill, carrying the full bridge deck load.
The TensarTech range uses soil reinforcement geogrids securely connected to system specific facing components. TensarTech's fully integrated retaining wall systems are easy to install, and provide long-term durability, performance and structural integrity. They reduce construction costs as a lower cost alternative to reinforced concrete or piled retaining walls, or by the use of varied backfill materials – including recycled and site-won materials.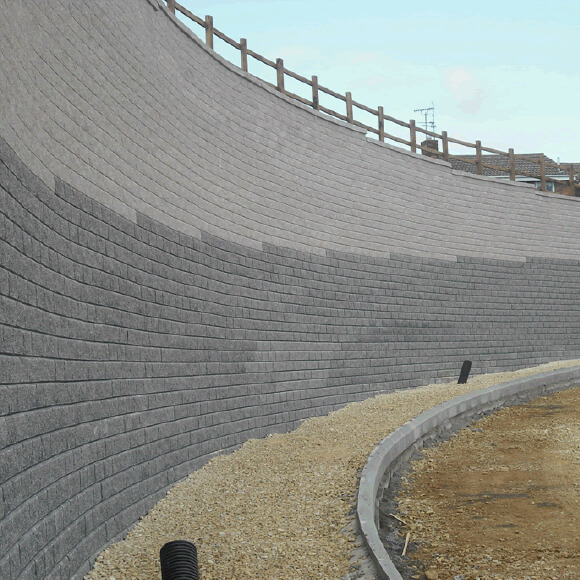 Reinforced Soil Walls
Mechnically stabilised earth (MSE) retaining walls offer a zone of earth fill behind the vertical face, stabilised with reinforcing geogrids or geotextile laid horizontally back from the face in layers, retaining the fill behind. The external face of the wall is usually concrete block, pre-cast concrete panels or steel mesh geotextile. This cladding is non-structural and is supported by the stabilised fill, usually by attachment to the reinforcement geogrids.
Correctly designed reinforced soil wall structures are capable of carrying high surcharge loading, making them suitable for building bridge abutments retaining walls. Tensar's design software TensarSoil provides this capability and more.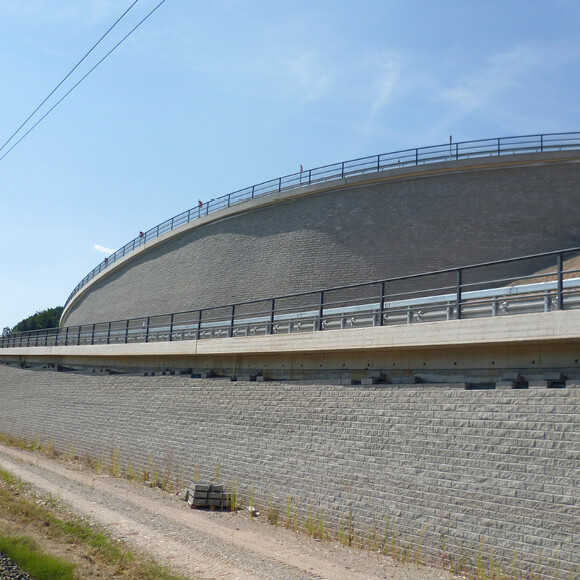 Tiered or Terraced Retaining Walls
High geogrid retaining walls can be constructed in a single plane or they may be stepped back to form a series of terraces. This can be more aesthetically pleasing and allow for vegetation to green and soften the structure. In some cases, the upper tier may be angled back to form a steepened vegetated slope. TensarTech reinforced soil structures are well suited to this type of tiered construction. The design takes account of the face geometry and can reduce costs compared to single face structures.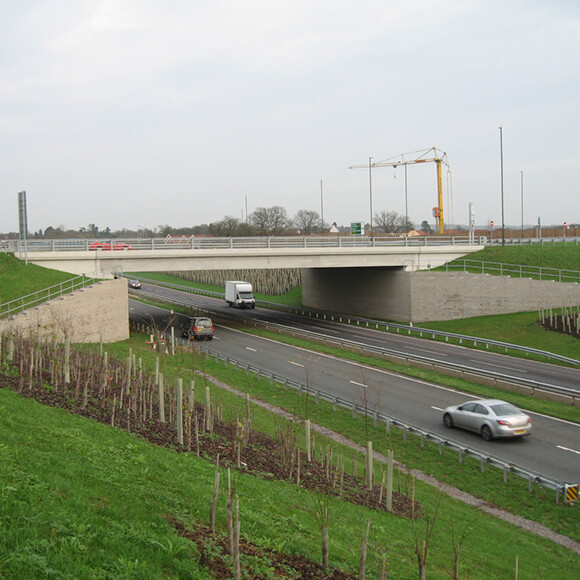 Bridge Abutments
Bridge abutments retaining walls can be straightforward earth retaining structures supporting the embankment fill only, with vertical bridge loading carried separately on columns and piles. However, it has become more common to support the bank seat directly on the reinforced soil block, transferring all bridge loading into the reinforced soil structure. TensarTech Wall System bridge abutments offer major cost savings and reductions in construction time compared to supporting the bank seat on columns or load bearing reinforced concrete walls.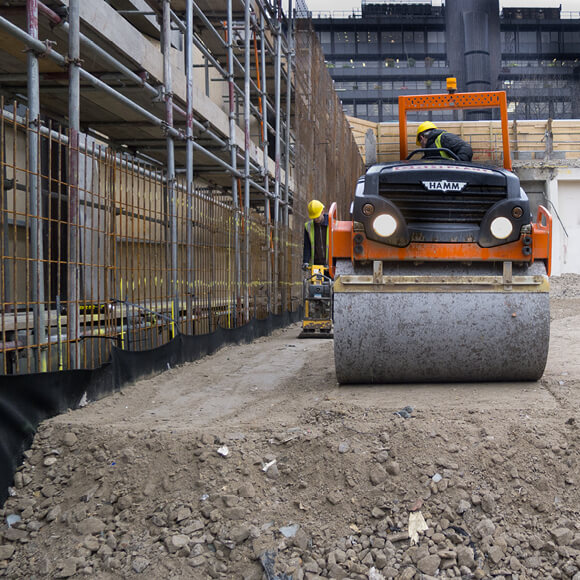 Thrust Relief Walls
Buried structures are subject to lateral loading due to the earth pressure. It is possible to separate lateral earth loading from vertical loading on such structures by the use of thrust relief retaining walls – or pressure relief walls outside of the buried structure. TensarTech retaining walls are ideally suited to thrust relief, as the stabilised soil block supports all lateral earth loading, leaving the buried structure to carry only vertical and hydrostatic loading.
In the same way, thrust relief structures have been utilised to reduce earth pressure acting on old masonry walls or bridge works. In some cases, lightweight aggregates have been adopted for the reinforced fill to minimise bearing pressure behind the protected structure. This approach has been used to protect many existing structures of historical or architectural significance.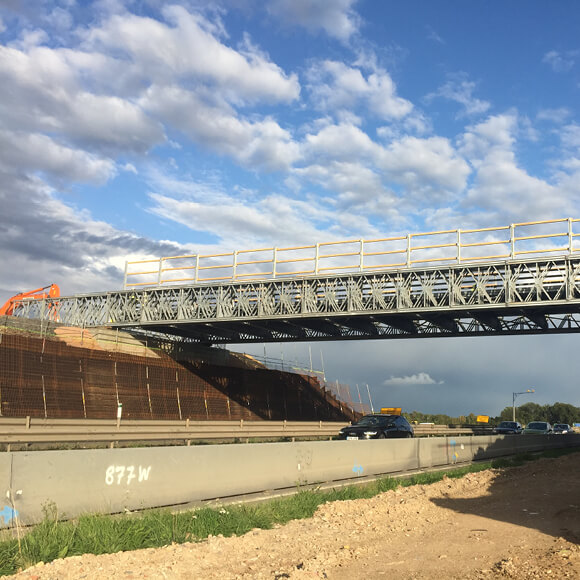 Temporary Earth Retaining Walls
Temporary earth retaining walls are required for many types of staged construction. Driven pile systems have been the preferred choice for many years, but these systems are expensive, requiring heavy lifting and pile-driving equipment as well as skilled labour for installation. 
The TensarTech TR2 temporary retaining wall system is a proven technology that allows you to build temporary walls without the challenges and expense of other techniques. With an economical wire-form geotextile facing system, lightweight installation equipment and use of unskilled labour, TensarTech TR2 temporary Walls provide a durable, low-cost alternative. These retaining walls are ideal for staged construction, traffic maintenance, haul road bridge abutments and similar projects.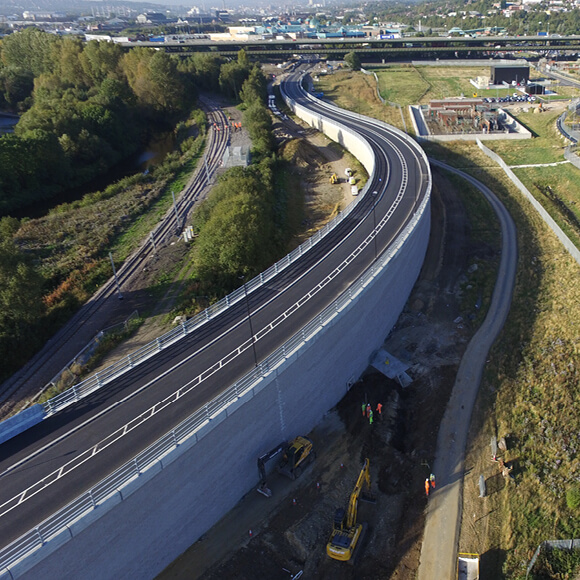 The Benefits of Geogrid & Geotextile Retaining Walls
There are many benefits to using Tensar geogrid retaining walls and reinforced soil structures. These systems can significantly reduce costs through the elimination of foundation requirements and the use of 'lower quality' fill materials such as recycled aggregates, site-won materials and PFA.
Other benefits of geogrid retaining walls include:
120-year design life certification for both retaining walls and bridge abutments.

Rapid construction without the need for heavy lifting equipment or supporting formwork.

A wide choice of facing, including modular blocks, concrete panels, rock filled units or stone or masonry cladding. Selection can be based upon construction cost, service life, aesthetics, or project specific needs and conditions.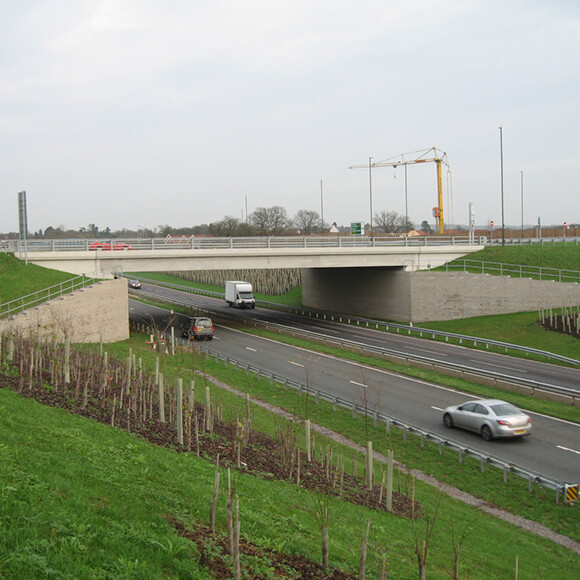 The Benefits of Bridge Abutment Retaining Walls
Load bearing bridge abutments incorporating Tensar geogrid retaining walls have proven to be very effective when subjected to seismic loading, with reduced settlements and structural damage. Alternative methods of eliminating thermally induced lateral loading have high maintenance requirements, resulting in inherent disruption and costs. Tensar has developed design techniques for reinforced soil integral bridge abutments where all lateral loads are transmitted directly to the bank seat. Loading is carried by the stabilised soil block, including the cyclic lateral bridge deck loading
Retaining Wall & Bridge Abutment stories