Designing for Value
by Jonathan Cook, on June 03, 2021
Designing for value
Value Engineering has to be about maximising value not simply reducing cost, but this is a change to established thinking…
How is value defined?

Traditionally,

. However, true Value Engineering (VE) is actually about maximising the overall stakeholder value of a project.
Does value engineering inevitably reduce quality?
Delivering a keynote speech in October 2018 to the Chartered Association of Building Engineers (CABE) in the aftermath of the Grenfell Tower disaster, Dame Judith Hackitt, former Health & Safety Executive chair, said that value engineering was a phrase she would "be happy to never hear again, it is anything but value, it is cutting costs and quality".
The construction industry can often equate reduced cost directly to increased value, but this ignores that cost has a direct impact on the delivery of functionality. If a reduction in cost results in a disproportionate reduction in functionality, then a cost reduction can result in reduced value. Clearly, fully defining required functionality is key, and all stakeholder functional requirements must be investigated, clarified and defined, before any value engineering changes are proposed.
Value engineering does have a place
Value engineering identifies opportunities to reduce costs, while improving functionality. The aim is to deliver the project's functional performance requirements at the lowest cost – preferably, the lowest whole life cost.
For construction projects this means an investigation of materials availability and cost, construction methods, transportation, project-specific restrictions, PLUS stakeholder issues and benefits, environmental and sustainability impacts. Adoption of new and innovative materials and methods such as substitution of materials and methods with lower cost alternatives can significantly reduce costs, but they must do so without reducing functionality.
The importance of defining functionality
Functional analysis is an established technique that can be used to identify and quantify the requirements or value criteria of all stakeholders.

Example of stakeholder value criteria for a retaining wall project:
Client – Project Owner

Increase useable space
Increase value of land asset
Keep project cost within available budget
Minimise maintenance costs over a 60 year design life

Neighbouring business owners

Minimal business disruption during construction
No impact on existing structures and access

Employees and Public

No traffic disruption during construction
Minimal noise and vibration during construction
Aesthetically acceptable

Contractor

Minimal vehicle movements to and from site
Use of existing equipment and available skill set
Support of local employment and materials suppliers
Enhance local reputation and promote business

Environmentalist and Ecologist

Minimise use of non-renewable materials
Minimise impact of local flora and fauna
Low construction emissions
Low albedo and thermal impact on local environment

The impact of any method change must be assessed against each of the value criteria. Functionality is not then just about ensuring whether a specific function is delivered, but how well it is delivered (performance), for how long it is effectively delivered (service life) and with what social and environmental consequences (impacts).
When can value engineering be applied?
VE can be applied at any stage of a project, but the earlier VE is considered, the greater the potential for value increase.
The Figure below (from RISC Guidance note 5) illustrates how early application of VE has the potential to have most benefit for all stakeholders.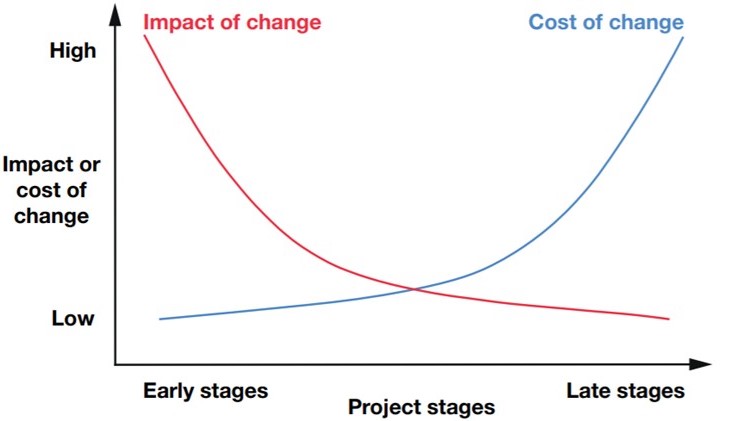 Cost of change increases as impact of change decreases

Tensar designers improve performance, functionality and environmental impact alongside cost reduction and have long understood the importance of early project involvement. In this way Tensar has been able to contribute with alternative approaches that deliver real value to stakeholders, such as extending the service life of new pavements to minimise future traffic disruption and associated financial and environmental impacts
During the pre-construction stages of projects Tensar has partnered with contractors to develop and implement VE alternatives that have had major impacts on value, such as re-designing earth retaining structures to enable the use of on-site waste materials as structural fill – reducing local traffic disruption and lowering overall carbon emissions.

By partnering with Tensar clients, designers and contractors have been able to tap into Tensar's vast experience of VE on all types of infrastructure projects.
Value Engineering with Tensar Pavement Optimisation
Tensar's approach to flexible pavement design perfectly illustrates the balance of functionality and cost to deliver true value to the client.

Tensar developed Spectra M-E software for the design of flexible pavements, incorporating the benefit of mechanical stabilisation of unbound layers. The inclusion of one or more layers of Tensar geogrid improves the trafficking performance of the pavement.

The Spectra M-E software allows the designer to take advantage of this performance benefit in a way to meet the primary value criteria of the client. Examples would be;

- Service life can be increased– reducing life time cost and minimising future traffic disruption for maintenance. Or...
- Pavement layer thicknesses can be reduced to minimise construction cost, reduce the consumption of non-renewable materials and reduce construction related carbon emissions
- Construction programmes can be shortened, cutting contractors costs and bringing forward completion dates to the benefit of road users
To read more about the benefits, check out our Ground Coffee blog post on "The Power of Pavement Optimisation"
How it was done at Orchard Place housing scheme
By partnering with the scheme designer at the pre-contract stage, Tensar designed temporary access roads that could then safely be utilised as foundations for permanent roads in this housing development.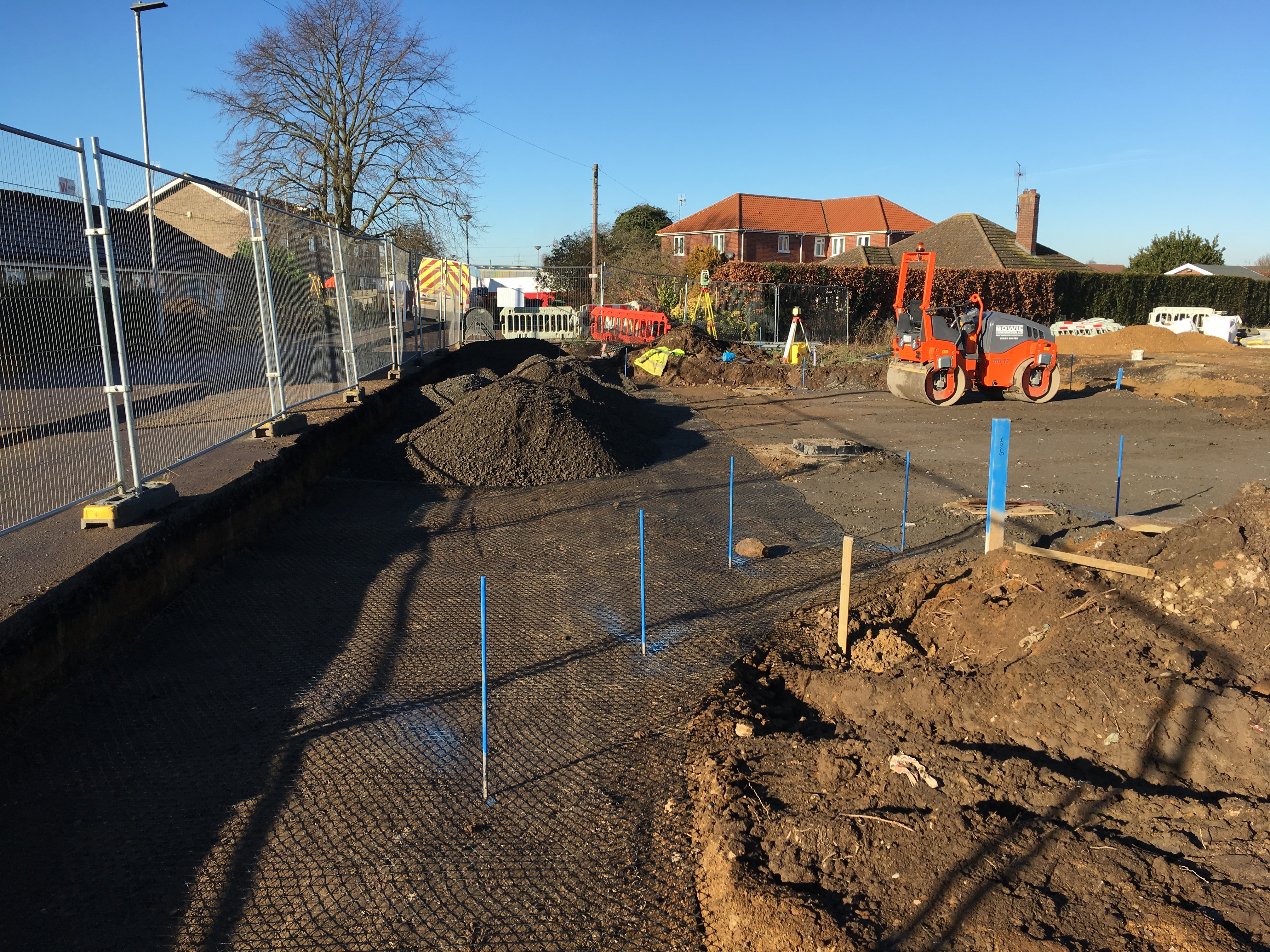 A example of value engineering at Orchard Place housing scheme saving £64,000 on flexible pavement construction
Construction costs were reduced by £64,000, but overall value was further enhanced by reducing the transportation and environmental costs of excavation and replacement of soft soils, and the import of a significant volume of road aggregate. Future disruption to residents was also reduced by minimising potential for differential settlements over time.
To read more about the project background and Tensar's solution, the full case study is available to download by clicking here.
Topics: