Foundation & Embankment Stabilisation Support
Foundations systems and embankment stabilisation for enhanced structural integrity, shorter construction schedules and lower project costs
When faced with weak underlying soils, excavation and replacement can be costly and disruptive, and piling is a common but expensive option. Tensar takes a different, more efficient and cost-effective approach to foundation and embankment stabilisation, creating stiff platforms that distribute loads over weak soils.
Developers, engineers and contractors know that constructing reliable foundations over poor soils can be technically challenging, expensive, and time-consuming. Tensar has developed a variety of foundation systems to create stiffened platforms that distribute loads more efficiently over weak soils, increasing their effective bearing capacity and decreasing differential settlement. This offers foundations with enhanced structural integrity, shorter construction schedules and lower project costs.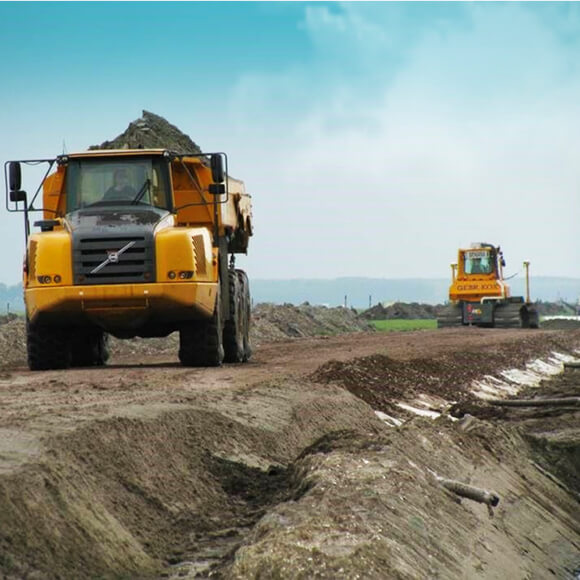 Embankment Foundations & Stabilisation
The construction of stable embankments, bridge approaches, causeways, levees, and dikes over weak soils is challenging. The earthworks for these projects are expensive and time-consuming when built by conventional means. However, Tensar offers foundation systems that create stiff, stable foundation platforms over weak soil at the base of the embankment. The two key systems are TensarTech Stratum and Tensar Basetex Basal Reinforcement. These systems reduce construction footprint, differential settlement potential, and fill-volume requirements. They can enable single stage construction, greatly reducing the project time-line.
TensarTech® Stratum – Cellular Foundation Mattress
TensarTech Stratum System creates a 1m deep, stiff foundation platform that mitigates the effects of differential settlement and also reduces lateral spread. This can increase bearing capacity to improve stability, enabling accelerated fill placement.
Tensar Basetex High Strength Geotextile – Basal Reinforcement
Tensar Basetex high-strength geotextiles can be used to reinforce the base of embankments, intercepting failure surfaces which may extend into a low-strength foundation soil. Basal reinforcement with Tensar Basetex geotextiles can reduce or avoid staged construction periods, helping keep projects on time and within budget.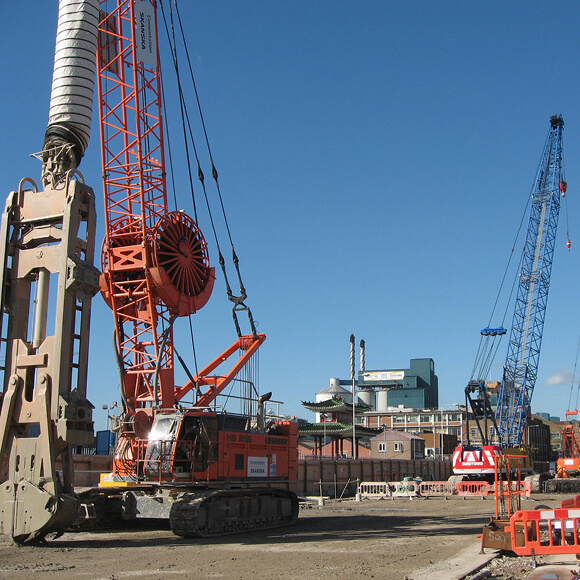 Crane Platforms
The consequences of subgrade failure or excessive settlement can be catastrophic in terms of the cost of equipment damage, lost time and injury to site staff and unfortunately, the static loads applied to the subsoil where cranes operate can be extremely high. Tensar geogrid technology has been proven to enhance the performance of crane platform structures. Mechanically stabilised crane platforms incorporating Tensar geogrids have supported large cranes operating on bridge deck replacement, wind farm sites and industrial developments. Cost savings of up to 40% can be achieved and in most cases, construction time can also be reduced by 50%. 
Liquefaction Mitigation
In seismic regions, soil liquefaction can occur, causing damage to buildings due to differential settlement. Tensar has proven solutions that create stiffened platforms to mitigate the differential settlement caused by liquefaction and minimising damage to low level buildings.
Deep foundations and ground improvement techniques are well-suited to support tall and heavy structures, where severe liquefaction events and lateral spreading are expected. However, these solutions are very costly for structures typically founded on shallow foundations. A Tensar mechanically stabilised granular layer offers a more economical solution by creating a non-liquefiable crust that helps prevent surface manifestations and bearing capacity loss. Project savings of up to 50% have been realised, compared to deep foundations and other ground improvement techniques. 
Pipeline support
Where buried pipelines traverse areas of weak soil, variability of support can lead to differential settlement effects. By constructing a Tensar mechanically stabilised layer at the base of pipe trenches, a stiff platform is created that mitigates differential settlement effects.
Mechanically stabilised layers constructed above buried services and pipelines can provide protection from surcharge loading by distributing concentrated loads.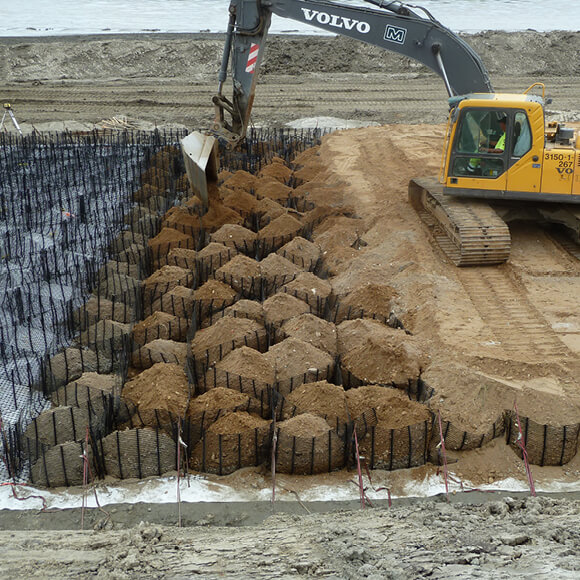 Embankment Transition Stiffening
Differential settlement between approach embankments and rigid structures, such as bridgeworks or culverts, can lead to unacceptable ride quality, often requiring repeated maintenance. The incorporation of a Tensar foundation system below the approach embankment, can be used to create a transition zone, reducing differential settlements. Designs may utilise a stiffened platform created by TensarTech Stratum, Tensar LTP or Basal reinforcement with Tensar Basetex high strength geotextile. Project specific conditions will determine the most appropriate solution.
Void Spanning
Construction of embankments over areas of deep mineworking, brownfield sites or certain types of substrate, need to take account of possible sinkholes of voids opening up beneath the embankment, perhaps decades after construction is complete. Basal reinforcement comprising single or multiple layers to Tensar Basetex can be designed, to allow the embankment to span voids and provide long-term support to the embankment. In some cases this can avoid the alternative of deep grouting or structural foundations.
Foundation & Embankment StabilisatioSuccess Stories