Providing robust support to the A14 improvements
by Erkan Tahiroglu, on December 03, 2020
Tensar's reinforced soil systems were used extensively on Highways England's £1.5bn A14 Cambridge to Huntingdon improvement scheme, delivering permanent structures for junction improvements and load bearing abutments for temporary bridges.
As well as widening and improvements to 34km of the A14, the improvement scheme included the new 20km Huntingdon Southern Bypass, to take traffic off the A14, plus improvements to the A1(M), Huntingdon town centre and local roads, with better connections for horse riders, cyclists, and pedestrians.
Tensar was involved from the very start, working with the A14 Integrated Delivery Team, a joint venture of contractors Balfour Beatty, Skanska and Costain, plus consultants Atkins and Jacobs.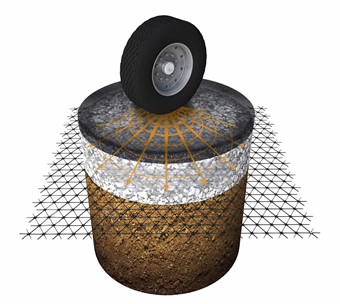 Tensar worked with the A14 Integrated Delivery Team to design several reinforced soil structures for junction improvements on the A14, including at Bar Hill.
TensarTech TW3: Providing permanent retaining structures
TensarTech TW3 reinforced soil retaining walls were used instead of conventional reinforced concrete to build wing walls for new overbridges for several junctions, notably the A1(M)/A14 junction, plus the Bar Hill and Swavesey Junctions on the widened section of the A14 between the eastern end of the Huntingdon Southern Bypass and the interchange with the M11.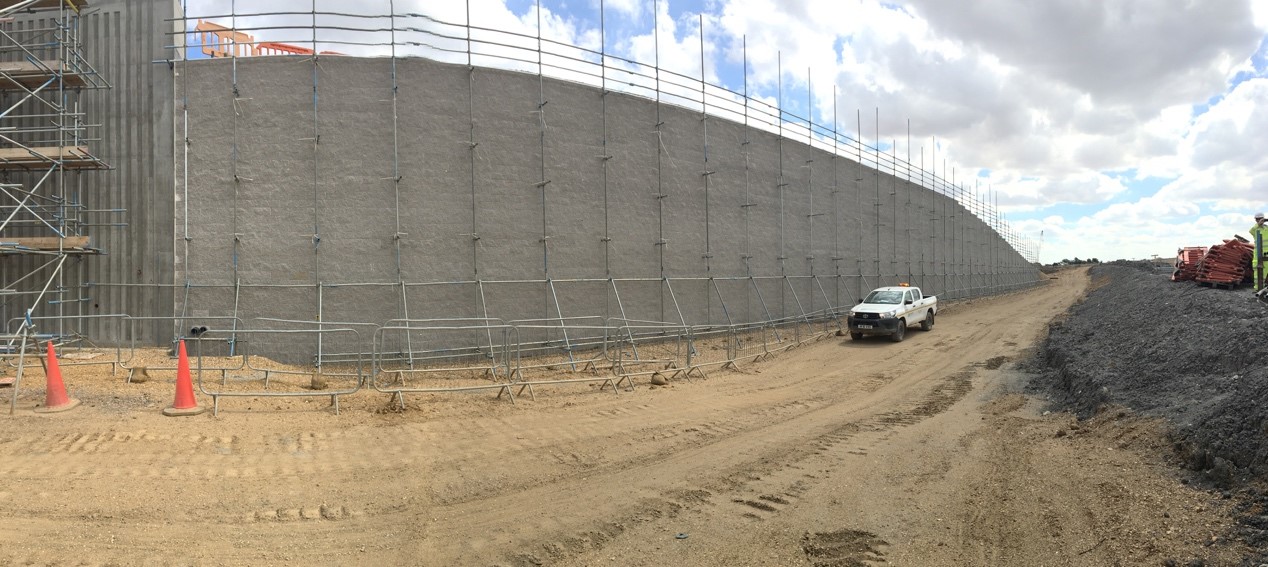 TensarTech TW3 walls were used to build wing walls for new overbridges for several junctions along the route.
A key reason for choosing TensarTech TW3 was because it is robust and flexible enough to accommodate the predicted settlements, both during construction and for several years afterward.
Most of the retaining walls experienced up to 50mm of vertical movement during construction – with no effect on performance or appearance of the wall facing – and were designed to accommodate up to 100mm of long-term settlement of the underlying heavily overconsolidated and highly variable Glacial Till, Oxford Clay and Kimmeridge Clay.
Dry-laid block facing was used, so the walls could be built safely, without heavy lifting equipment, in tight working areas next to live traffic. Tensar worked with Atkins and Jacobs to design the structures, taking the walls through to technical approval (AIP) by Highways England.
TensarTech TR2: Supporting temporary construction access
Tensar's TensarTech TR2 system was used to build retaining walls for the load bearing abutments of three temporary over bridges.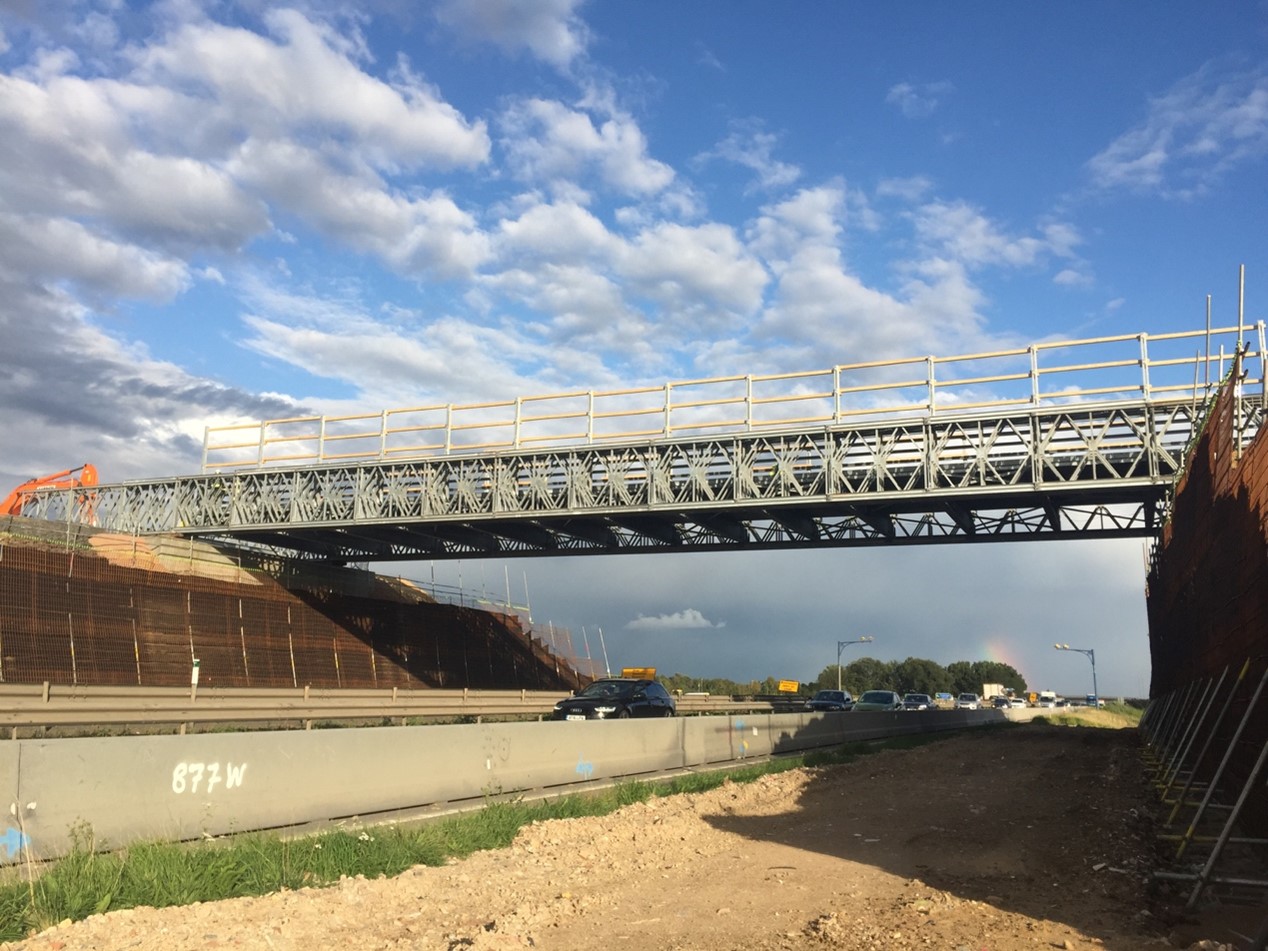 TensarTech TR2 load bearing abutments supported bridges keeping construction traffic off the A14.

Two were built to allow construction traffic to move between parts of the construction site, avoiding the A14, and the third was built over the River Great Ouse during construction of the new viaduct. The temporary abutments were designed to carry loads of up to 206kPa from the bank seats (including the dead weight of the bridge and live traffic loads).
A major benefit of using TensarTech TR2 was that no formwork was needed, as the steel mesh panel facing – which is lined with a durable, heavy-duty geotextile, was braced internally and held in place by the geogrid and fill.
This meant abutments could be built quickly and easily, without specialists skills or equipment. The bridges were used for about 18 months before being dismantled.
TensarTech GreenSlope: Delivering softer landscapes with robust support
Additionally, TensarTech GreenSlope system was used to form steep vegetated slopes to approach embankments for overbridges and to slip roads at upgraded junctions, often in conjunction with the TW3 system.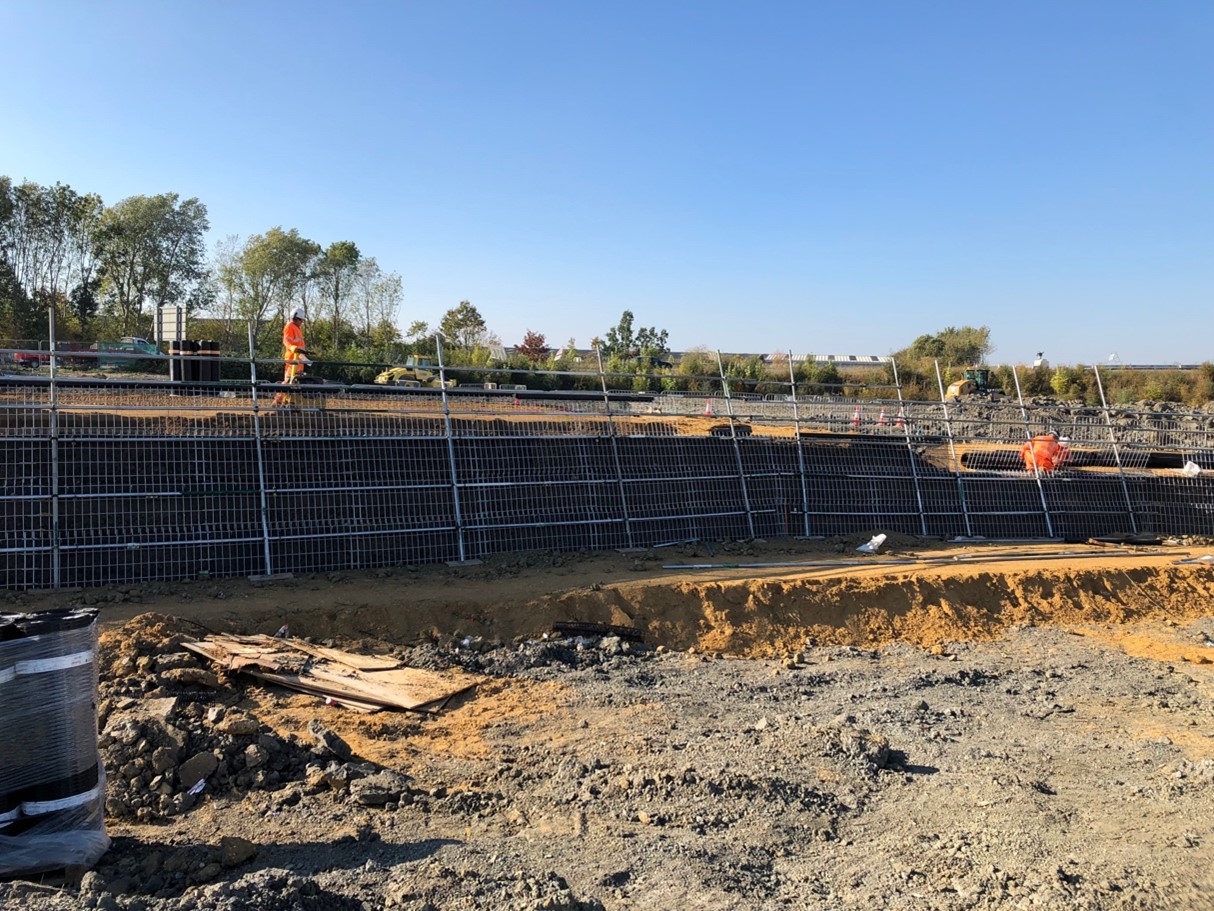 TensarTech GreenSlope system under construction – the system was used to form steep vegetated slopes to approach embankments.
TensarTech NaturalGreen: More sustainable and greener approach
TensarTech NaturalGreen was chosen to form earth embankments. One of the big advantages was that processed sand, a by-product from the on-site concrete batching plant (classed as a 1B material), could be used, instead of the Class 7 material proposed originally, which would have had to be imported. This saved both time and money, while supporting the project's overall approach to sustainability.
Construction, which began in November 2016, was completed ahead of schedule, with the new and improved roads opening to traffic eight months early in May 2020. Tensar provided technical and on-site support throughout, visiting site regularly during works.
The project overview can be downloaded here.