Sustainability and success go hand-in-hand
We believe that in order to create a more resilient future, the world needs confident designers and builders who understand how to achieve sustainability. We also believe this goal can be achieved without sacrificing the bottom line or project timelines. That's why we treat every conversation as an opportunity to understand how sustainability can go hand-in-hand with profits and success. Our passion for educating combined with our innovative geogrid solutions allow you to design and build with confidence. When that happens, we all win.


Our journey to a more sustainable future
Providing increased sustainability through innovative business processes and positive carbon efficient solutions.


Solutions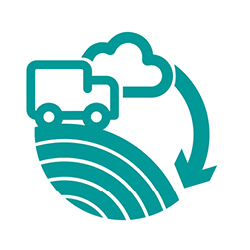 Providing solutions which positively impact the carbon footprint of the projects we supply to.
Environmental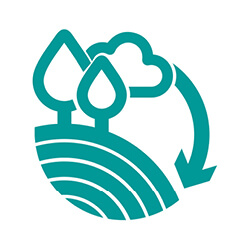 Reducing carbon footprint through improved manufacturing efficiencies and sustainable energy sources.
Community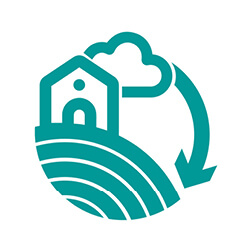 Supporting internal and external communities, contributing to positive employee wellbeing and localised charitable activity.
Solutions


Providing solutions which positively impact the carbon footprint of the projects we supply to.


Tensar design each project with exact project factors and requirements in mind. We do this to ensure that we don't under or over design where it isn't needed. Alongside saving time and cost on site we prioritise saving carbon emissions for our customers projects.
By incorporating Tensar geogrid solutions into projects we can save on unnecessary excavation and can reduce the amount of aggregate required. Tensar solutions also allow for recycled fill material where possible. The benefits to this include:
Reduce on site excavation
Reduce transport of aggregate materials
Faster construction on site
Extended project design life and reduced maintenance


These also align with the information found here from the IGS (International Geosynthetics Society) on how 'geosynthetics make significant contributions to the UN Sustainable Development Goals'
Some examples of projects where we have saved up to 50% on carbon emissions can be found below. (Links to case studies)
Environmental


Reducing carbon footprint through improved manufacturing efficiencies and sustainable energy sources.
For over 10 years we have had a strong focus on our business carbon footprint and have implemented several initiatives to improve and reduce this.
Switching to100% renewable energy supplier From 1st October 2020, all electricity used in manufacturing comes from renewable sources after an initiative to switch energy provider. More information on this can be found here.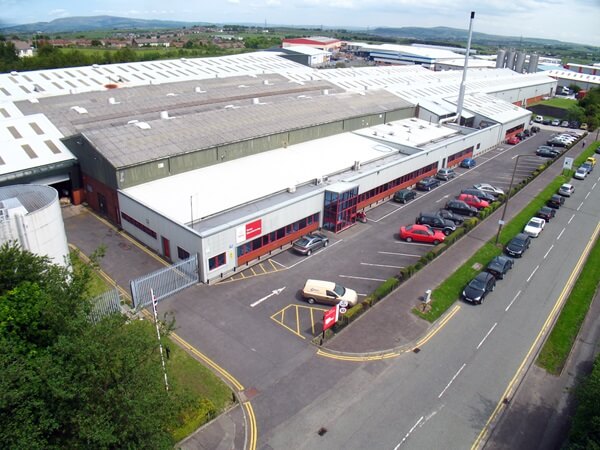 Installation of intelligent LED lighting in the factory Supporting the reduction of energy consumption, saving 250t carbon a year
Fitting energy-efficient compressors in our facility
Major strides in waste reduction 99.5% of all internal polymer waste is recycled during the production process
Cool Earth & Open Energy Certificate Confirms the contribution Tensar has made and helped to protect 7.99 acres of forest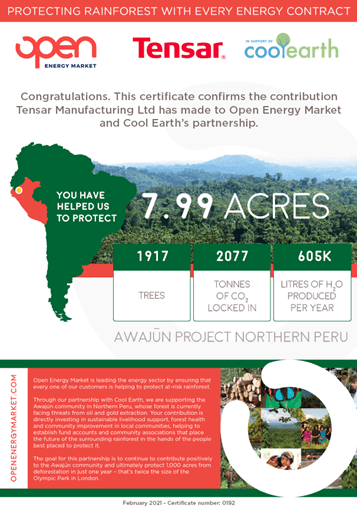 We continue to place an ongoing emphasis on maximising material efficiencies for a required product performance through new product development and existing product and process technology modification.
Community

Supporting our internal and external communities to prioritise positive employee wellbeing and build charitable partnerships.
Employee Wellbeing
We put the health and safety of our employees as our top priority. This includes a signification commitment is made to internal training alongside our focus on equality and diversity across our organisation.
Some examples of the commitments we have made can be seen below:
On track to ensure that 20% of our employees are trained as mental health first aiders by 2022.
Dedicated Tensar Academy focussed on internal and external education
Internal events held to raise awareness of diversity and inclusion across the organisation
Talent Development Programme in place
Tensar regularly run 'cycle to work' schemes which is always well received and encourages employee health fitness alongside positive environmental contributions.


Charitable and community support
Tensar work to support charities in local communities wherever possible. Whether this is from sponsorship of a local football team to running internal events raising money for charities.
We also support larger charities such as Blackburn Youth Zone.


School and STEM support
The Tensar team includes several STEM ambassadors and recently ran a competition for young people during UK lockdown which encouraged young people to design their own sustainable transportation.